Tips to Sell Your House this Fall
Posted by Dwellings Boyd on Monday, September 26, 2022 at 4:54 PM
By Dwellings Boyd / September 26, 2022
Comment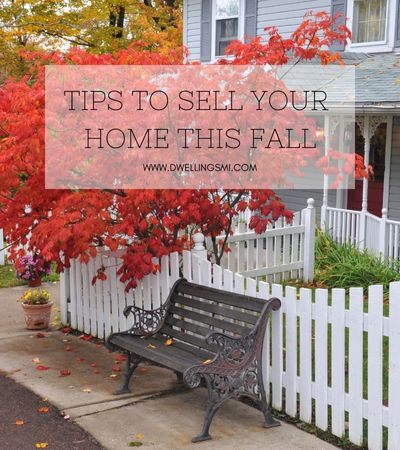 Preparing your home for sale this Fall may sound daunting, but it can be simpler than you think. Before the snow begins to fall, many buyers are still interested in finding a home to call their own. While the market is balancing a bit, we are still seeing high demand and relatively low supply, which means you might be in a great position for a successful home sale.
Not sure where to start? We are always here to help, so contact us any time. We also have a few tips to help you get started.
Boost the Curb Appeal
There are a few simple ways to boost your home's curb appeal before you list it for sale.
Seasonal Maintenance
Fall is a great time to address a variety of exterior chores, whether you are preparing to sell your home or not. Taking care of your lawn, gutters, and sprinkler systems will not only prepare the property for a great home inspection, but will show your potential buyers how beautiful the house can look from the moment they drive up.
Pull out the Pressure Washer
If you own a pressure washer, now is a great time to put it to use. If not, renting one is a minimal investment that will be worth your while. Use the pressure washer to clean your deck, walkways, driveway, and possibly even the house itself (depending on the materials it is made of).
Clean the Windows
We all have a tendency to get used to the look of our windows, and may not realize how dirty they have become until we see them after a good washing. This may be something you'd like to hire a professional to handle, depending on the number of windows you have and whether you have a second story.
Tidy up the Entryway
Your potential buyers will likely enter the home through the front door, and it will be one of the most powerful first impressions. Make sure your porch, patio, or front entry is clean and charming. A little staging here goes a long way; add a subtly seasonal welcome mat, some potted flowers, and a fresh patio seating set.
Show a House that's Clean and Cared For
More than a home that is perfectly styled, buyers want to see a space that has been well managed. When your home is sparkling clean, free from clutter, and in perfect working order, your buyers will be able to see all the reasons it might be the right choice for them.
Declutter and Deep Clean
Before you work on staging or decorating, ruthlessly declutter the home. Even things that don't seem like clutter to you can appear cluttered to a buyer. Some common sources of clutter that should be put away before showings are:
Pet food and water bowls, toys, and beds
Stacks of mail, homework, or other papers
Grocery lists, kids' artwork, and other papers on the fridge
Personal toieltry items on bathroom counters
Shoes, coats, and bags at an entryway
Numerous small kitchen appliances on counters
After decluttering, make sure to give the home a thorough cleaning. This may be a great time to hire a professional to keep up with the home while it is on the market, depending on the time you have and the amount of cleaning that needs to be done regularly.
Repairs
Walk through your house and make note of anything that needs repair. This might include:
Chipping paint
Loose hardware
Stained carpets
Bent blinds
Scuffs or dents in walls or baseboards
Dead lightbulbs
Showcase the Home's Potential
After the home has been decluttered, cleaned, and repaired, it's ready for staging. Simply giving each space a clear, defined purpose is a great way to help support your buyers' imagination as they consider whether the house is right for them.
Staging doesn't always have to be expensive or time consuming. Focus on giving each room a clear purpose and swapping out bold design choices for a more neutral aesthetic.
If you are not sure where to begin, don't worry! We are here to help. Contact us any time to get started.