Thrifty Ways To Furnish Your New Home For Less
Posted by Dwellings Boyd on Thursday, April 7, 2022 at 4:39 PM
By Dwellings Boyd / April 7, 2022
Comment
You've bought your first home—congratulations! It's a huge milestone you finally accomplished after what could be years of saving up for the down payment. However, once you've moved into your new home, that's when it hits you. Your house now requires far more furniture than the tiny apartment you rented. And the furniture is expensive.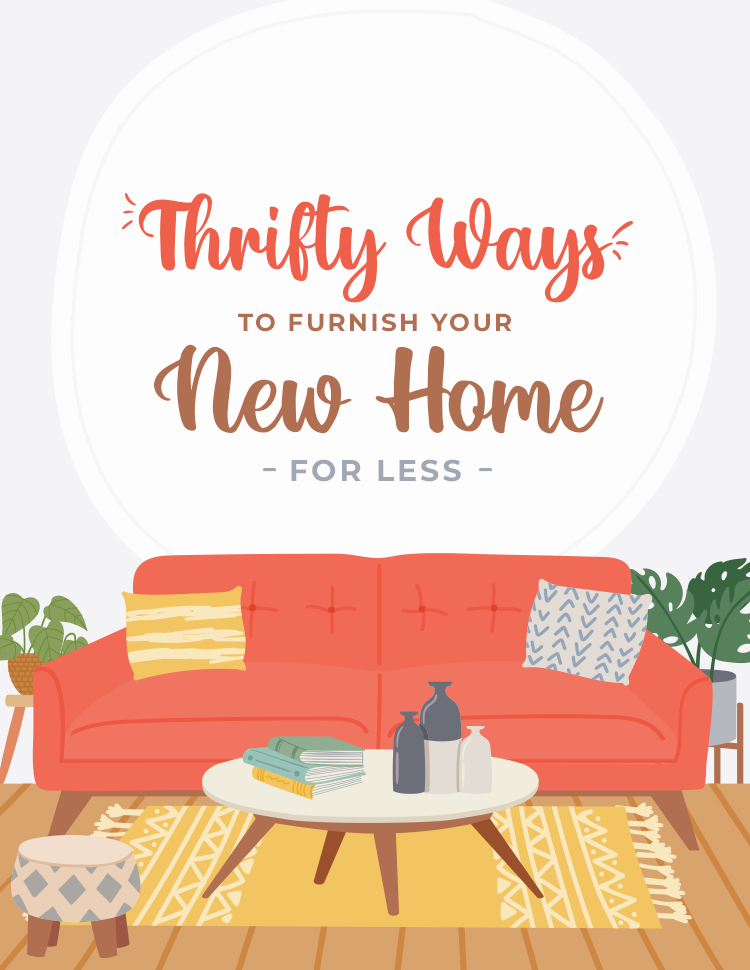 You've factored in other costs with owning a home, including maintenance costs and even property taxes but how about your furnishing needs? The last thing you'd want is to blow your entire budget and incur debts just to save your rooms from being lonely and bare.
If that's a scenario you'd want to avoid, we've compiled some of the best tips to help you furnish your home without draining your bank account. By combining these thrifty ways with a little creativity and a whole lot of patience, you can furnish and decorate your home and make it uniquely yours.
Take inventory and repurpose what you already have.
As much as we would like to furnish our new home with fresh furniture and pieces to achieve similar looks from our Pinterest boards or Instagram feeds, for most of us, that might be unrealistic. So before you buy anything, take inventory of everything you already own. Take a hard look at your existing furniture and decor and see if any can be refashioned or reused. Likely, many of the items you already own are already nice pieces that will work in your new home. Or some of them just need a little bit of sprucing for them to match your new space.
Sit down and evaluate each item, and then make a "to keep" list, excluding items that are beyond repair or that you can't stand the sight of any longer. Keep an open mind and decide where each item will be placed. Just remember the most important thing: while you don't have to use these pieces forever, it can be a great way to fill in spaces in your new home until you can afford to upgrade.
Visit thrift shops and consignment stores.
Before buying anything new from pricey, high-end stores, you may want to visit your local thrift stores and consignment shops. They often sell high-quality items for lower prices, and there's a huge chance you'll find some great deals if you look hard enough.
The stigma of secondhand shopping is rapidly declining due to the popularity of sites like Facebook Marketplace, and online auction and swap sites like eBay, Etsy, Craigslist, and LetGo. While some pieces may need to be refinished and may take a little elbow grease, they may end up being your favorite items because of their distinct character that can't be associated with items from big furniture stores.
If you have concerns about the germs, stains, and even possible infestations from used items, it's valid, especially during the time of Covid-19. That being said, there are items you definitely shouldn't buy used. Otherwise, second-hand items aren't any more "germy" than brand new products. Just keep in mind to appraise these items thoroughly before taking them home. Check their material, durability, and whether they are fairly clean and free from bugs or insects. And once you've guaranteed they're still in decent shape, you'll have a treasure you've saved from going into landfills.
Or search for yard and estate sales in your area.
Aside from thrift stores, local yard sales, flea markets, and even estate sales are also a gold mine for affordable furnishings and other household items. You can find great items from people holding a yard sale, such as curtains and blinds, wooden furniture like cupboards, coffee tables, or bookcases, and other home decor items.
As a rule, steer clear of items like electronics and appliances in garage sales. If something goes wrong with the TV or an old gaming console you bought, you won't have any guarantee on the merchandise, unlike if you purchase them from reputable retailers.
Watch out for seasonal sales.
Furniture is a huge purchase, but it isn't impossible to catch a sale in one of your local stores or discount warehouses. Look at multiple stores and keep an eye out for deals, especially after the holidays and whenever the seasons change. For example, you might want to shop mid-winter (January and February) or the end of summer (August and September), as retailers will be discounting their old stock during these months to make room for new styles.
If you're looking to find bargain outdoor furniture, fall can also be a great time to shop. People seldom shop for a patio set at the end of that season. Likewise, you could also wait until holidays such as Memorial Day, the 4th of July, or Labor Day, when there are usually great sales on furniture. Just be patient and remember that if what you're looking for isn't on sale now, it might be in a few months.
If you are trying to furnish your new home on a shoestring budget, it won't hurt to use social media to look for freebies. Depending on where you live, there might be people in your community or near your area that are looking to buy, sell, or give away items for free, especially on Facebook groups. You'll be surprised how much free stuff is on offer, mostly furniture and other items that are still in good condition. You can even score name-brand stuff if you get lucky, and all you have to do is to pick it up and move it yourself.
Don't be dissuaded if an item you like is a little worn or is the wrong color. You can give new life to these pieces, like a hand-me-down dresser or a side table, by using a fresh coat of paint. There are plenty of websites with DIY tutorials where you could pick up unlimited ideas on how to turn drab but well-loved items into conversation pieces. Feel free to explore and experiment with colors that you love, and how you can incorporate them into your furniture or home decor.
Remember to splurge on certain items.
While you're dedicated to spending less to complete your new home's look, there are a few new purchases for which you should budget. Don't skimp on items that you need to guarantee their quality and cleanliness. For instance, if you've scored a sturdy and brand-new-looking bed frame from a garage sale. Splurge on a new mattress, along with new beddings, linens, pillows, and pillowcases. Don't forget to also spend on a new sofa or any upholstered furniture, bath towels, knives, and non-stick cookware, among other things. The key is to know when it's worth shelling out more bucks, especially if there are potential safety and health risks involved.

Everybody wants a nice and cozy home, and achieving that is probably every buyer's goal once they get their keys. But remember that your home is a work in progress — it won't be completed overnight. You have to be patient in accumulating the pieces you want, especially if you still need to save enough money. You may have to start with the essentials first, perhaps a bed frame and mattress. Bringing your space to life will never be a competition or a marathon. You can live there and entertain guests even if it isn't fully furnished. Embracing the process won't only help you avoid making purchases that are way past your budget, but you'll end up with a home that's thoughtfully decorated. It will be filled with furnishings you really love and which speak highly of your taste, style, and work for you and your family best.