Small Business Spotlight: Bella Mia Boutique
Posted by Dwellings Boyd on Monday, December 21, 2020 at 8:51 AM
By Dwellings Boyd / December 21, 2020
Comment
Arlette and Sarah Stobbe are a mother-daughter duo that set out to bring boutique shopping to Downtown Plymouth. Their business, Bella Mia, has been a staple in the Plymouth community for the past 17 years.
Together, they run both Bella Mia Boutique and Dressed Up by Bella Mia bringing versatility to the community - they appeal to multiple generations and prove that mothers and daughters can shop together.
Question: Can you just tell me the story of your business? I know you started 17 years ago.
Sarah: Yeah, it's been a long time we've been in this community, but we have lived in Plymouth our whole lives.
Arlette: Me, since I was 13, but Sarah, her whole life.
S: We started in Old Village which is a little quieter part of town, and we got our feet wet there. We always used to like leaving Plymouth and going to other towns to go boutique shopping. Then we were like, "Plymouth needs one of these stores! We need a boutique in Plymouth so that people want to come to our town." So, that's kind of where we have a niche. One day we said, "Wait, we could just do it!"
A: Nobody else had a boutique in town here. It just was more antiques and knickknack stuff. We came to the conclusion, "Hey, we can do this: doesn't take rocket science." We just decided to start out small considering we didn't know anything about retail, so in Old Village, we were fortunate. We started in a 400 square foot space over there for about a year or two years, and then something opened up over here on Forest, so we had a little bit of experience under our belts then and thought we could handle it so started over here on Forest. We made another move from there to down the street here, and then opened up the Dressed Up by Bella Mia on Ann Arbor Trail which is more formal. We started dabbling in formal wear, and then all of a sudden, it kind of grew into its own entity.
S: I think each time we were moving or reopening, we really listened to what people wanted, what do people need, and evolved from there. We didn't start off knowing exactly what we were going to do – we just kind of knew this is the general vicinity of what our community was asking for, and then just chatted with the customer enough to know things like, "Oh no! there is nowhere else to buy prom dresses around here. Let's really dive into that," or "There is already someone covering beauty, so we moved a different direction from that," from when we first opened. We really enjoy interacting with the community to inform our business decisions – that's important to us.
Q: You guys used to just be one shop and not Dressed Up. Why that split there?
S: It got really hard. For maybe two years, we had jeans and prom dresses in the same space, and it just got really hard to service both customers equally because I think they each require a lot of attention. We were doing our customer a disservice by not giving her enough focus in one area or another, so we said this really requires its own space in its own environment to really make that customer feel special and different.
A: Definitely. Just the aesthetics of it where our dresses were getting smashed together next to jeans; it just wasn't making sense. Again, we're very conservative, so before we go to expand we want to know that it's really going to work, so we put our toes in and then when we saw that there was room for it, then we decided to make the split and it's been great.
Q: How is it being a business with mother and daughter? What are the challenges? The great parts about it?
A: The good part is we get to spend time with each other!
S: I get to see you every day!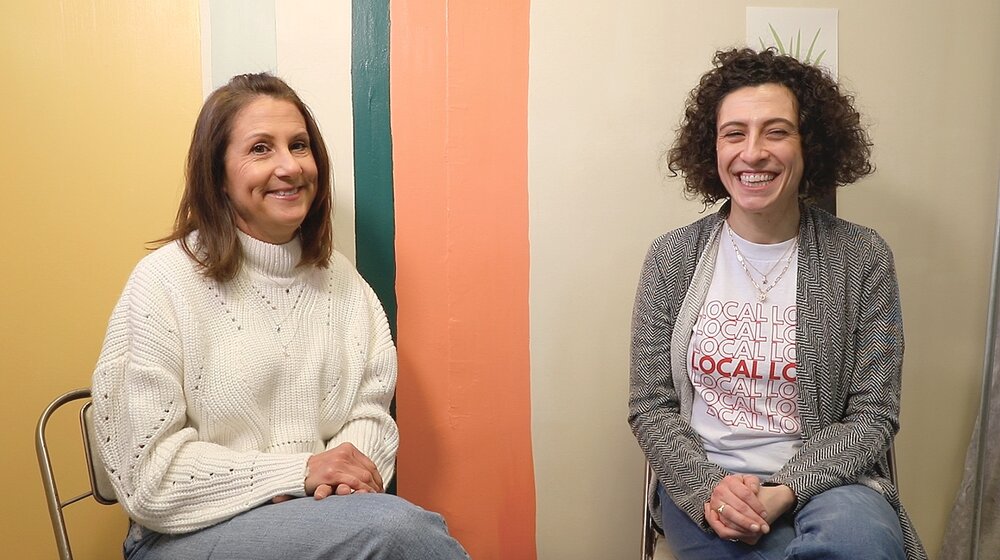 A: Over the years, we have found our own niche and what she does well, what I do well. Fortunately, it doesn't really overlap too much. The thing that we really have to really work together on is when we do the buying, and we can get a little difference of opinion, but always the bottom line is what does our customer want. (Looks to Sarah) Sure, you love it and you'd wear it, but would our customer. I love it. It's been a great experience.
S: I concur. It's been wonderful, and I think coming together to represent both a mother and daughter's opinion in our assortment has been good for our customer, too. For them to see that mother and daughters can shop together and each find something and know that that's OK that you guys are shopping together. So many customers say, "I don't want to shop where my daughter shops…" and we're like, "Well we both shop here! We actually buy everything together!" We represent that that can work, so it's been lovely working together.
Q: What kinds of things are you doing for Christmas? What kinds of deals and things like that are you offering right now?
S: We are starting our countdown to Christmas. Every single day we're doing a different promotion. Like today is free shipping, tomorrow will be a little discount on something else and just kind of highlighting a lot of great gifts in the store by giving the customer different little perks. Every day until Christmas, there is a different discount, a different perk, a different thing to help you give gifts, so that's super fun to check in daily for. Our customers say, "Oh actually that's giving me an idea! I didn't get something for my sister-in-law," or something like that.
WANT TO SHOP WITH BELLA MIA?
Visit their website!
A: It's great for our residents that do live in Plymouth because you can just hop out your door, run to downtown Plymouth and you can come up with lots of gifts without really having go that far away from your home. We're usually the busiest, believe it or not, Christmas Eve with people saying, "I can't believe you guys are open! I just need to get this, this, and that," and we've been really convenient.
S: I personally have a few things that I did order on Amazon, and they're still out for delivery, so knowing that you can walk into our store, grab that item, and you have it in your hand to give to the person, I think it's a big leg up on big box stores and Amazon. Being able to support your community around the holidays and to have the convenience of having the item ASAP is pretty cool.
A: We really appreciate our customers, especially our local people.
Q: Is there anything else that you want to add?
S: If you want to shop local later after the pandemic, you need to shop local now during the pandemic. That's really important! We're not part of a big chain where there's money backing us and supporting us so that we can make it through the storm. We need your help now so that we can be here later.
A: That's a wrap!