Museums in Metro Detroit
Posted by Dwellings Boyd on Tuesday, November 22, 2022 at 8:06:48 PM
By Dwellings Boyd / November 22, 2022
Comment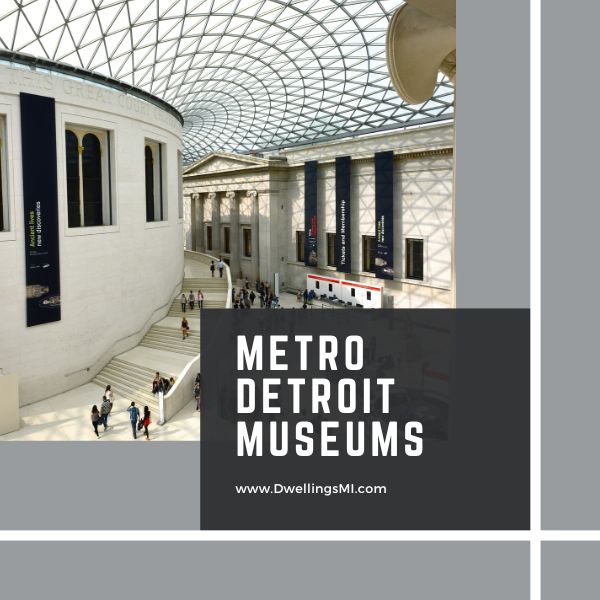 Finding things to do inside during the winter months in Metro Detroit is easy, with amazing dining and entertainment all throughout the area. You will also find an extensive list of museums, with something to engage every member of the family. Check out this list of some of the best museums in Metro Detroit to start checking them off your bucket list.
Want to learn more about living in Metro Detroit? Contact us any time.
The Henry Ford Museum of American Innovation
No list of Metro Detroit museums would be complete without mentioning The Henry Ford Museum of American Innovation. Explore the museum and learn all about American history, covering far more than Ford's impact on the automotive industry. The museum is also home to the chair Lincoln was sitting in when assassinated and Rosa Park's bus. New exhibits are introduced often, so even if you've been before you will enjoy another visit to see all the new things there are to learn.
The Henry Ford Museum also includes the 80 acre Greenfield Village, where Henry Ford brought over dozens of historic structures to become the first outdoor museum over a century ago. More than just old buildings, these structures include the place where Thomas Edison had his lightbulb moment and the Wright brothers' workshop. Whether you already love American history or you are hoping to inspire a new appreciation for it, this is the museum for you.
Motown Museum
Music fans will love the Motown Museum, located in the house and recording studio dubbed Hitsville USA. Motown greats like Diana Ross, Michael Jackson, and The Temptations all had their start in Detroit, and this recording studio turned museum is the perfect place to celebrate them and learn more about the history of the genre. The museum is only open by reserved tour, so plan ahead to visit this one.
Michigan Science Center
If you are looking for the perfect museum to engage and inspire kids, you have to check out the Michigan Science Center. This interactive science museum features many hands-on exhibits that are so fun, your kids won't realize how much they are learning. On a mission to "inspire curious minds of all ages to discover, explore and appreciate science, technology, engineering, and math," they features permanent and temporary exhibits so there is always an ideal blend of favorite experiences and new adventures to be had.
The Zekelman Holocaust Center
Learn all about the sobering history of the Holocaust and how we can fight prejudice in our own communities today at The Zekelman Holocaust Center. You may even get the chance to listen to a presentation by a Holocaust survivor, forging a memory you will never forget. The museum covers the rise of Naziism, concentration camps, the postwar period, and more. A tour of the Holocaust Center makes an ideal supplement to a study of World War II, and is an inspiring place to visit any time.
To learn more about living in the area and homes for sale in Metro Detroit, contact us any time!