Budget Friendly Curb Appeal Ideas
Posted by Dwellings Boyd on Wednesday, October 5, 2022 at 3:00 PM
By Dwellings Boyd / October 5, 2022
Comment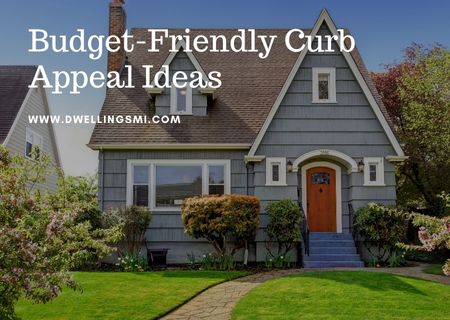 Giving your home an exterior makeover to boost curb appeal doesn't mean you have to break the bank. There are plenty of ways to help your home stand out for little to no cost, and we've got a list of ideas to get you started.
Having a strong curb appeal is one of the best ways to attract your ideal buyers, so don't miss out on these affordable ways to do just that. And when you're ready to sell your home, contact us! We would love to help.
Tidy Up the Landscaping
The status of your front landscaping can either be an eyesore or a major curb appeal boost. Take the time to care for your lawn, weed any garden beds, fertilize, and generally tidy everything up. Without investing any money in new landscaping, you can spruce everything up.
For the extent of the time your home is on the market, keep up with lawn care and landscaping tasks, making sure to stay on top of weeding, edging, and mowing.
Paint Your Front Door
For the minimal cost of a small can of paint, you can make a major visual impact on your home's curb appeal by repainting the front door. Either choose a new color that compliments the existing exterior color palette, or simply freshen up old or chipping pain by using the same color.
Add Potted Plants or Window Boxes
Potted flowers are a great way to add a freshness and pop of color to the front of your home. If you have a few front windows, consider adding window boxes. You might also have a few good spots for potted flowers, like the sides of the front door, next to the mailbox, or somewhere on the porch.
If keeping flowers alive isn't something you excel at, consider adding a high-quality faux arrangement to your flower boxes for a reliably vibrant pop of color.
Install a New Mailbox
How is your current mailbox looking? If your home is a few decades old, chances are the mailbox may be showing some signs of wear. Rust, fading, chipping paint, dents, or other signs of aging are a good indications that a new mailbox would be worth the investment. Updating the mailbox is a great way to give a first impression that says the home has been well-maintained.
Additional: Why Winter Curb Appeal DOES Matter!
Wash the Windows
Take the time to thoroughly wash exterior windows. If you have a second story that presents difficult to reach windows, or if you just don't have the time, this is a great task to outsource to professionals for a relatively minimal investment. Presenting a clean, fresh exterior will show your potential buyers that the home has been well cared for.
Update Outdoor Furniture
Consider adding some updated patio furniture to the front of the home, creating an inviting space that gives an impression of a friendly neighborhood and a home with a variety of living areas. If you already have outdoor furniture, make sure it is in good shape. Consider swapping out the cushions for something new or repainting frames that are chipping or rusting.
Add Outdoor Lighting
Lighting is one of the best ways to add major impact to your home's curb appeal. Add spotlights for trees and shrubs, solar powered lanterns along a walkway, or motion-censored lights on the driveway. Not only will these look great, but they are also a major perk from a security standpoint.
Pressure Wash the Walkways
Never underestimate the impact you can make on your curb appeal by renting a pressure washer. Giving the driveways and walkways a deep clean is one of the easiest ways to make it look good as new.
Looking for more ideas to prepare your home for sale? We can help. Contact us any time!