Boost Your Wintertime Curb Appeal
Posted by Dwellings Boyd on Tuesday, October 25, 2022 at 4:42:07 PM
By Dwellings Boyd / October 25, 2022
Comment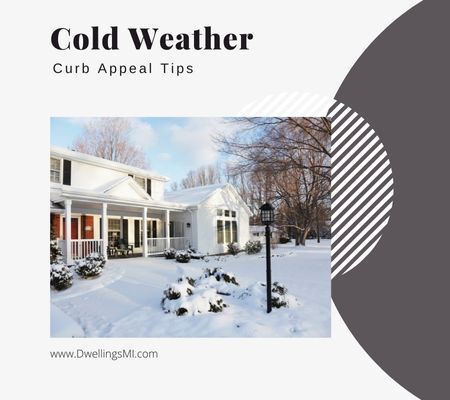 When your home has great curb appeal, it is far more likely to attract the ideal buyer. In Michigan, many months out of the year are wintry, with snow covered front lawns and an opportunity to boost your curb appeal with some unique ideas. Even in the winter, it's still a great time to sell your house, and there is no reason to think you can't have a successful sale any time of year. With the right preparation and professional team, you can experience a successful sale even in the coldest winter.
When you are ready to sell your home in the Metro Detroit area, we are here to help. Contact us to get started!
Ready to boost your cold weather curb appeal? Get started with these ideas.
Safety First
The most important step in winter curb appeal preparation is considering safety. Keep walkways and steps cleared from ice and snow, make sure the path is well lit, and let your agent know if there are any potential hazards the buyer and their agent should be aware of.
Don't Forget the Lawn
The lawn may be brown, but you can still keep it looking tidy. Keep things trimmed and cleared of any brush or debris, taking the time to rake regularly and watching for things the wind may blow in. When the lawn is clear and tidy, potential buyers will be able to imagine it in all its lush green summertime glory.
Clean the Gutters
If you have not had your gutters cleared from fall leaves, make sure to do so before listing your home. These leaves will make the home appear poorly maintained, and can cause problems for the house and even safety hazards down the road.
Pay Attention to Lighting
As the days grow shorter, you are more likely to have buyers stop by for a showing when the sun is setting or it is fully dark. Make sure your potential buyers can still see the beautiful exterior by focusing on outdoor lighting. Adding outdoor lighting will make your home safer and more attractive to buyers.
Place lanterns or other lighting along the path leading up to the front door and along the driveway, add spotlights to showcase trees or the house itself, and consider installing sconces along the sides of the front door.
Tasteful Seasonal Decor
While a large inflatable holiday display might be an unwelcome distraction for buyers, more subtle seasonal decor is a great way to make the home feel warm, welcoming, and well maintained. Add a wintry wreath, decorative firewood storage on the porch, or warm white lighting strung along the trim.
Pops of Green
As the majority of the landscaping lies dormant during the winter season, add some potted evergreen plants to infuse some life into the scene. A high quality faux arrangement or wreath can have a similar effect. If you already have evergreen plants and trees on the property, make sure they are well trimmed and tidy before showings.
Want to learn more about selling your home in the Metro Detroit area? Contact us any time.